Holtz Family Chiropractic
Holtz Family Chiropractic offers pain management, chiropractic care and massage therapy for the whole family. We have the ability to diagnose and treat the following conditions:
| | |
| --- | --- |
| Headaches | Arm Pain |
| Neck Pain | Hand Pain |
| Mid Back Pain | Carpal Tunnel |
| Low Back Pain | Plantar Fascitis |
| Leg Pain | and more... |
Holtz Family Chiropractic care consists of:
We offer two convenient locations to server you. Visit us at our office in Hanover, Pa and also in the Thistle Hill Medical Center in Spring Grove, Pa.
Take a moment to browse through our site to learn more about Holtz Family Chiropractic and how we can help you and your loved ones. If you have any questions or comments, please feel free to contact us.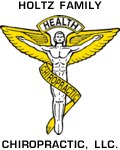 We look forward to hearing from you soon.
Dr. Patricia M. Holtz
Dr. Jeffrey A. Holtz
and Staff